Contact or Visit Cottonwood Mansion
Hours of Operation

July 1 through August 20, 2017:
Open, Monday to Sunday from
11:00 am to 4:00 pm,
except for rental bookings.
Final self-guided tour begins 3:00 pm.

August 24 through December 16 2017:
Open, Thursdays and Saturdays from
11:00 am to 4:00 pm,
except for rental bookings.
Final self-guided tour begins 3:00 pm.

December 17 2017:
Closing for regular season hours for the winter season with the exception of special events and rentals.




Tour Pricing

Adults: $6.00
Seniors: $5.00
Children: $3.00.
Preschoolers and under are free.
Cottonwood Mansion Museum welcomes bus tours by appointment.
Tours of fifteen or more persons outside of regular open hours are also available by appointment.
Food service for fifteen or more persons can also be booked.
Cottonwood Mansion
740 Haldimand Road 53, P.O. Box 56,
Selkirk, Ontario, N0A 1P0

Phone: 905-776-2538
Email: cottonwoodmansion@gmail.com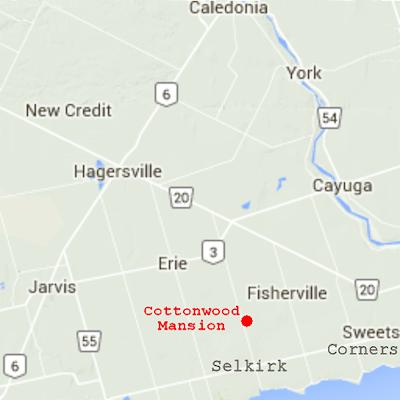 Click the map for directions from Google.
See the Street View.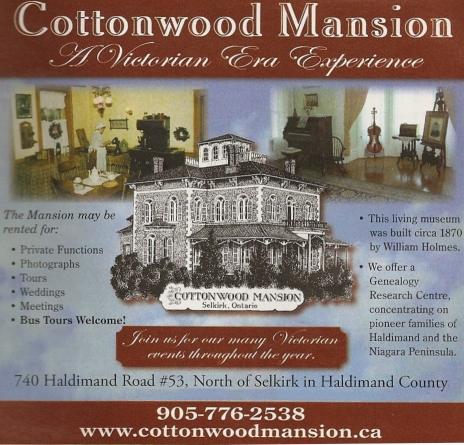 Cottonwood Mansion is owned and was restored by the Cottonwood Mansion Preservation Foundation. Registered Charity No. 1319611773RR0001
The Cottonwood Mansion Preservation Foundation is a non-profit organization, incorporated in 1989. It is governed by unpaid elected Trustees.
Trustees
On Saturday, May 27, 2017 five members were elected as trustees at the Cottonwood Mansion Preservation Foundation Annual General Meeting. They are, left to right: Catherine Berry Stidsen, Vice President; Lynda Davis, Trustee-at-Large; Karen Zandersons, Secretary; Craig Sitter, Treasurer; and Richard Hoover, President. Two trustee positions for one or two years of service are still available. Interested persons are invited to call Kelly at 905-776-2538 for information.

Click to Enlarge
The Trustees make the quorum which permits the Foundation to operate. The current roster was elected May 27, 2017.