Our regular email cottonwoodmansion@gmail.com is restored to normal again.
Welcome to Cottonwood Mansion Museum
Cottonwood is an Italianate-style red brick mansion built c. 1860 by William Holmes Jr., as a private residence. Descendants of the family say the name came from the cottonwood trees that originally surrounded the home on its 200 acre site. It was lived in until 1911 and then was derelict for almost eighty years until its restoration was undertaken by the late Larry Hamilton beginning in 1988.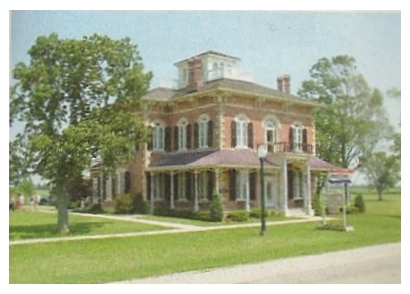 Cottonwood is a 6,000 square foot mansion with fifteen rooms, some of which have the original furniture donated by Holmes' family members. Now a living museum, the mansion is open for tours, and available for rentals for a variety of events. A number of scheduled events take place annually, most with a Victorian flavour in keeping with the mission statement of the Cottonwood Mansion Preservation Foundation to sustain and maintain the Mansion and provide experiences of the Victorian Era.
Cottonwood's extensive genealogy research centre is now administered by the curator at Haldimand County Museum and Archives. It concentrates on the pioneer families of the Haldimand and Niagara areas.
---
Summer Student Position Open
Cottonwood Mansion Museum is looking for a college or university student to fill the position of Museum Assistant for the summer. Email your resume and cover letter by Saturday, May 25, 2019 at 11:59pm. Please download the posting below.
2019 Summer Student Job Post
---
Coming Up
Annual General Meeting
The Cottonwood Mansion Museum Annual General Meeting is being held on Saturday May 25, 2019 beginning at 11 a.m.
Please open or download the AGM 2019 Announcement for more information.
If you would like to vote but cannot attend the meeting please download and fill out a 2019 Proxy Form. Please complete and return by May 10, 2019 as detailed at the bottom of the proxy.
---
Winter Hours 2019
Apart from rentals, Cottonwood Mansion Museum will be closed for the months of January, February and March 2019. Essential repairs to the Ballroom and other parts of the building will be made during this time. We expect to reopen to the general public beginning in April. Phone messages and emails will be answered during this time. Please continue to consult our website for updates.
---
Latest News
September 1, 2018
Our Fall 2018 Newsletter is available!
Summer of 2018 was an exciting season, check out our newsletter to see happened, articles from the past and upcoming events!
Download the 2018 Fall Newsletter.
---
April 2, 2018
Our Spring Newsletter is now available!
Take a look at some of our events that we held here at Cottonwood Mansion Museum including our Victorian Valentine's Day Tea and St. Patrick?s Day Dinner, and take a look at our Revisiting the Past section. An article written by Larry Hamilton from the February 1991 edition of the newsletter is included!
Download the 2018 Spring Newsletter.
---
January 1, 2018
2017 Financials Available Here!
Download the 2017 financial statement.
---