News Archive
---
Ontario150 Community Capital Program Grant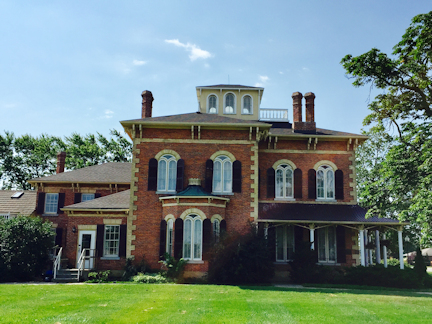 Cottonwood Mansion Museum was the recipient of an Ontario150 Community Capital Program Grant administered by the Ontario Trillium Foundation on behalf of the Ontario150 Secretariat. The grant was for existing properties to be repaired in a variety of ways that would make the facilities more available to the public. It seemed designed for a place like Cottonwood. The grant would make possible the repairs needed for the chimneys, the installation of a new roof, and the replacement of three pillars on the annex. Fortunately, the Mansion was chosen as a recipient. One quarter of the $66,000 estimate had to be provided by the Foundation. The actual cost came in at $6,000 less than anticipated. The trustees are happy to report that the work has been completed as the above photograph demonstrates.

---
Article
Home at Home: Selkirk and Haldimand County
Feature article on Selkirk and Haldimand County in a national Canadian magazine. 400,000 copies across Canada. Download the PDF.
Reprinted with permission from Home Hardware's Home at Home magazine.
---