Welcome to Cottonwood Mansion
Cottonwood is an Italianate-style red brick mansion built c. 1865-70 by William Holmes Jr., as a private residence. Descendants of the family say the name came from the cottonwood trees that originally surrounded the home on its 200 acre site. It was lived in until 1911 and then was derelict for almost eighty years until its restoration was undertaken by the late Larry Hamilton beginning in 1988.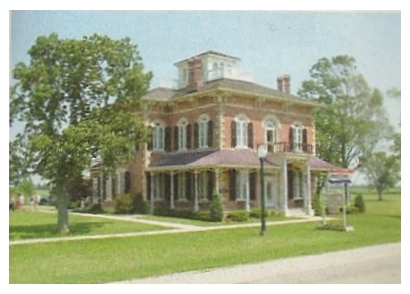 Cottonwood is a 6,000 square foot mansion with fifteen rooms, some of which have the original furniture donated by Holmes' family members. Now a living museum, the mansion is open for tours, and available for rentals for a variety of events. A number of scheduled events take place annually, most with a Victorian flavour in keeping with the mission statement of the Cottonwood Mansion Preservation Foundation to sustain and maintain the Mansion and provide experiences of the Victorian Era.
Cottonwood's extensive genealogy research centre is now administered by the curator at Haldimand County Museum and Archives. It concentrates on the pioneer families of the Haldimand and Niagara areas.
---
Coming Up
February 5, 2017
Special Members Meeting
Special Members Meeting - 2:00 pm
---
CANCELLED January 15, 2017 Winter Warm-Up Buffet CANCELLED
---
Available Now
THE HOOVER'S COME TO CANADA - 1791 Book
covers the Hoover connection to Cottonwood Mansion
and Selkirk Community and follows the Family of
Jacob Reginald Hoover (1912 to 2003) to the present.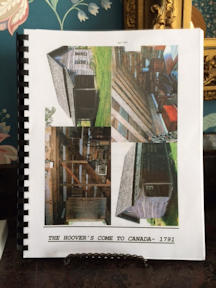 The book sells for $40.00 + shipping and
$10.00 per book sold will be donated to the
Cottonwood Mansion Preservation Foundation.

Limited Quantities Available

Please contact Cottonwood Mansion at 907-776-2538
or email cottonwoodmansion@gmail.com if you
are interested in purchasing a book.

---
Home at Home: Selkirk and Haldimand County
Feature article on Selkirk and Haldimand County in a national Canadian magazine. 400,000 copies across Canada. Download the PDF.
Reprinted with permission from Home Hardware's Home at Home magazine.
---
Latest News
October 15, 2016
Victorian Children's Event Recap
Cottonwood Mansion hosted a Victorian Children's Event on October 15,2016 with period playtime and education that included vintage themed toys, games, lunch, entertainment, and a tour of the Mansion. Special thanks to Karen Richardson of Haldimand County Museum and Archives for the use of their vintage toys and games and to all the volunteers and guests who attended the event.
| | |
| --- | --- |
| Jack enjoyed an afternoon of vintage playtime with special thanks to John and Lorna Walker of The Neat Little Book Shop in Cayuga for loan of the "Pirate" board for souvenir photos. | |
| | |
| --- | --- |
| Maddie in vintage play at Cottonwood Mansion's Victorian Children's Event. | |
| | |
| --- | --- |
| Dave and Mary Ann Pearson entertained at Cottonwood Mansion during the Children's Victorian Event. | |
| | |
| --- | --- |
| Volunteers Jackie and Grace helped show the children how to have fun with no batteries required. (Toys and games provided by Haldimand County Museum and Archives, Cayuga) | |
---
August 21, 2016
The Peter Banting Swingtet Concert-Beef On A Bun And Corn Roast Recap
The Hamilton based "Peter Banting Swingtet" made its first appearance at Cottonwood Mansion on Sunday, August 21st at the Mansion's Beef on a Bun and Corn Roast event. The gazebo at Cottonwood was used as a dance floor. Chairs were set close to it and also under the shade of some of the magnificent trees on the property. A breeze from the lake made for a perfect day.
Members of the audience who didn't dance could be heard singing along with the favorites like "Hello, Dolly" and "Mame" among others. The band has been in the Selkirk area before but this was its first time at Cottonwood. They are known in many areas for the help they provide for not for profit organizations and charities.
Peter Banting provided a variety of classic jokes between the sets. The supper after the concert offered Snyder's corn, beef on a bun with a variety of condiments, three salads and strawberry pie for dessert. It was catered by Barbara Held, President and assisted by other Mansion volunteers. Guests were invited to eat indoors or outdoors.
Many in attendance were first time visitors to the Mansion and took advantage of the self-guided tour which was included in the price for admission. Many expressed their intention to return for other events.
The Peter Banting SWINGTET: left to right, Back row: John Steven on guitar; James Locke, drums; Urmas Soomet, bass.

Front row: Rudy Wasylenky, tenor saxophone; Peter Banting, alto saxophone; Ruth St. Amand, trumpet; and Keith Kindree, trombone.
| | |
| --- | --- |
| President of Cottonwood Barbara Held and Gelindo Sanmartin of Hamilton help get the dancing going in the Mansion's gazebo, perfect for that kind of amusement. | |
| | |
| --- | --- |
| Volunteer David Pearson "roasting" the corn for Cottonwood's Swingtet Concert and Beef on a Bun. Former President Clayton Spears helped with the shucking of the 84 ears of Snyder's corn earlier in the day. | |
| | |
| --- | --- |
| Volunteers for Cottonwood Mansion's Beef on a Bun, Sunday, August 21st. Maureen Edge, Cindy Stewart-Held, Administrative Assistant at Cottonwood, Greg Hilton, and Barbara Held, President of the Preservation Foundation. | |
---
August 7, 2016
Victorian Concert and Peach Social Recap
Cottonwood Mansion hosted the 11th Annual Victorian Concert and Peach Social on Sunday, August 7th.
Guests were entertained by the Cottonwood Brass Quintet with special guest Dr. Henry Meredith. Volunteers served an ice cream and peach dessert with peach punch.
| | |
| --- | --- |
| The Cottonwood Brass tuning up for the concert. | |
| | |
| --- | --- |
| Volunteers preparing the peach dessert. Pictured from left to right: Greg Hilton, Barbara Held, President Cottonwood Mansion and Deanna Schaus. | |
| | |
| --- | --- |
| Pictured from left to right: Peter Banting, Adam Mahonske, a concert pianist teaching now in Baltimore, whose mother is from the Simcoe area and was a friend of Peter's mother, Hula, their golden retriever, now retired from providing litters for service dogs, and Wendy Banting. | |
---
June 19, 2016
Strawberry Social Recap
Cottonwood Mansion hosted their annual Strawberry Social on Sunday, June 19.
Guests enjoyed listening to the Haldimand-Norfolk Concert Band, sponsored by Bob and Shirley Otterman. Volunteers served an ice cream and strawberry dessert with punch.
| | |
| --- | --- |
| Pictured from the left: Wilma and Jim Louks of South Cayuga and Don Booker of Dunnville who won the door prize, a print of Cottonwood Mansion by Emily Otterman. | |
| | |
| --- | --- |
| Pictured from the left: Joan Harper of Selkirk, her Mom Marjorie Hartwick of Fisherville and her daughter Isabella Harper, also of Selkirk, enjoyed an ice cream and strawberry dessert on the grounds of Cottonwood Mansion after listening to the Haldimand-Norfolk Concert Band at the annual Strawberry Social held Sunday, June 19. | |
| | |
| --- | --- |
| Haldimand-Norfolk Concert Band entertained guests during Cottonwood Mansion's annual Strawberry Social held on Sunday, June 19. | |
---
May 22, 2016
High Tea-Downton Abbey Style Recap
| | |
| --- | --- |
| Guests at Cottonwood Mansion Museum on Sunday, May 22nd, thoroughly enjoyed a high tea catered by President Barbara Held. Among the guests and volunteers were John and April Skerrett of Simcoe, in full Victorian regalia. | |
| | |
| --- | --- |
| A display of a collection of Victorian buttons owned by Mary Ann Pearson of Cayuga was also on display and will be at the Mansion throughout the summer season. Guests expressed total delight in the afternoon's festivities. | |
| | |
| --- | --- |
| The display of the high tea served to our guests. | |
| | |
| --- | --- |
| Claryssa and Amelya, granddaughters of members Bruce and Lois Gifford sang a tune to entertain our guests. | |
---
May 7, 2016
Cottonwood Mansion Dolly Tea Party Recap
On May 7 the 5th annual Dolly Tea Party was held at the Mansion. The event was organized and presented by Deanna Schaus, Maureen Edge and their staff of volunteers. It is one of the Mansion's most popular events and has already been pre-booked and sold out for 2017. Guests enjoyed an afternoon of lunch, tea, punch, cookies, handmade desserts, crafts, and games. There were plenty of door prizes and each girl received a gift bag for attending. This year a special donation of a hand-made doll was donated for a prize by Marla Eve who is a master doll maker. She has won international competitions and earned a perfect score in the last international competition.
| | |
| --- | --- |
| "Kayla" the beautiful doll donated by Marla Eve for the Dolly Tea Party. | |
| | |
| --- | --- |
| From the left; Roshika Dias with her daughter, Shekinah Williams, 5, of Caledonia, along with Christine Ralston of Selkirk, enjoyed an afternoon of fun at Cottonwood Mansion's 5th annual Dolly Tea Party on May 7, 2016. | |
| | |
| --- | --- |
| From the left; Stuart and Bridget Brown of Port Dover, were joined by Ann Brown from Toronto, and Rebecca Shapiro of St. Catherines at the 5th annual Dolly Tea Party held at Cottonwood Mansion on Saturday, May7, 2016. | |
| | |
| --- | --- |
| Mom, Kelly Cooper, with Jade and Kennedy Cooper, and their baby dolls, all of Stoney Creek, were joined by grandmother Joyce Ward of York at Cottonwood's 5th annual Dolly Tea Party on Saturday, May 7, 2016. | |
---
March 13, 2016
St. Patrick's Day Country Dinner Recap
Cottonwood Mansion hosted a Traditional Country Dinner in honor of St. Patrick's Day on Sunday, March 13. Barbara Held, President, along with volunteers served baked ham, colcannon, barmbrack and all the trimmings which included delicious desserts, tea, coffee and punch.
| | |
| --- | --- |
| Attending the dinner from the left are; Linda and Harold Robertson of Selkirk, Lois and Bruce Gifford of Fisherville, and Ron and Anne Pavlovich also of Selkirk. | |
Wendy and Peter Banting attended the St. Patrick's celebration.

Peter also provided entertainment to the crowd after dinner with his Alto Sax, he is a member of the Peter Banting Swingtets of Hamilton.
| | |
| --- | --- |
| Barbara Held, President enjoying the event and serving. | |
Irish Barmbrack

Prep: 15m
Cook: 1hr
Ready in: 5h 15m




Ingredients

2 1/2 cups dried mixed fruit (Compliments Five Fruit Medley)
1 1/2 cups hot brewed tea
2 1/2 cups flour
1 teaspoon ground cinnamon
1/2 teaspoon ground nutmeg
1/2 teaspoon baking soda
1 egg
1 1/2 cups sugar
1/4 cup lemon marmalade
1 teaspoon grated orange zest



Directions
Soak the dried fruit in the hot tea for 2 hours, then drain and gently squeeze out excess tea.
Preheat oven to 350 degrees F (175 degrees C). Grease a 9 inch Bundt pan. Stir together the flour cinnamon, nutmeg, and baking soda; set aside.
Beat the egg, sugar, marmalade, orange zest, and tea-soaked fruit until well combined. Gently fold in the flour until just combined, then pour into the prepared Bundt pan.
Bake in preheated oven for 1 hour or until the top of the cake springs back when lightly pressed. Allow to cool in the pan for 2 hours before removing. Continue to cool to room temperature on a wire rack. Press the objects of choice into the cake through the bottom before serving.



Carrot salad

8 cups cooked carrots (sliced)
1 tsp salt
1/4 tsp dry mustard or regular
1 1/2 tbsp Worcestershire sauce
3 onions (chopped)
1 can tomato soup (don't add anything)
3 tbsp vinegar
3/4 cup white sugar
pepper to taste
1/2 cup salad oil
1 green pepper (chopped)
chopped celery



Mix all together, marinate at least 24 hours. Will keep in fridge for weeks.

Can be served hot or cold.



---
February 14, 2016
Valentine's Day Country Dinner Recap
| | |
| --- | --- |
| Pictured left to right are: Bob Otterman and Shirley Otterman of Fisherville, Jack and Darlene Binns of Hamilton, and standing is Barbara Held, President of the Cottonwood Mansion Preservation Foundation at the Mansion's Annual Valentine's Day Country Dinner held on Sunday, February 14th, at the Selkirk heritage site. | |
| | |
| --- | --- |
| Guests enjoyed a social hour followed by dinner. A self-guided tour of the Mansion was also included in the event. Cayuga resident Deb Matthews added to the enjoyment with "unmentionables", jewelry, an autograph book, and a quilt belonging to her Great Grandmother and dated to 1872, when the Mansion would have been in its heyday in terms of Victorian parties and enjoyment. | |
---