Welcome to Cottonwood Mansion Museum
Cottonwood is an Italianate-style red brick mansion built c. 1860 by William Holmes Jr., as a private residence. Descendants of the family say the name came from the cottonwood trees that originally surrounded the home on its 200 acre site. It was lived in until 1911 and then was derelict for almost eighty years until its restoration was undertaken by the late Larry Hamilton beginning in 1988.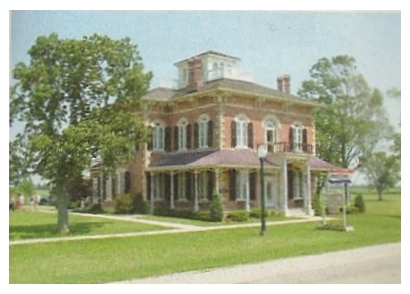 Cottonwood is a 6,000 square foot mansion with fifteen rooms, some of which have the original furniture donated by Holmes' family members. Now a living museum, the mansion is open for tours, and available for rentals for a variety of events. A number of scheduled events take place annually, most with a Victorian flavour in keeping with the mission statement of the Cottonwood Mansion Preservation Foundation to sustain and maintain the Mansion and provide experiences of the Victorian Era.
Cottonwood's extensive genealogy research centre is now administered by the curator at Haldimand County Museum and Archives. It concentrates on the pioneer families of the Haldimand and Niagara areas.
---
Latest News
June 29, 2020
Today's Mansion News
Richard Hoover, President for the Cottonwood Mansion Preservation Foundation, has released a news dispatch regarding the next few months. Please click through or download yourself a copy here.
---
June 12, 2020
Extended Temporary Closure
Cottonwood Mansion is closed. Your Trustees have decided to remain closed and reopen April 1, 2021.
---
May 27, 2020
Our 2019 Financial Statement is available.
Download the 2019 financial statement.
---