Welcome to Cottonwood Mansion
Cottonwood is an Italianate-style red brick mansion built c. 1860 by William Holmes Jr., as a private residence. Descendants of the family say the name came from the cottonwood trees that originally surrounded the home on its 200 acre site. It was lived in until 1911 and then was derelict for almost eighty years until its restoration was undertaken by the late Larry Hamilton beginning in 1988.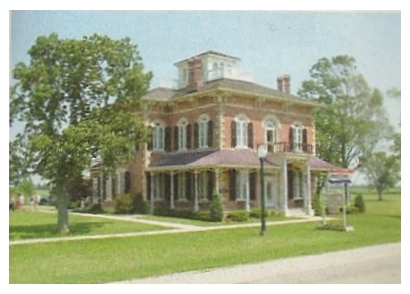 Cottonwood is a 6,000 square foot mansion with fifteen rooms, some of which have the original furniture donated by Holmes' family members. Now a living museum, the mansion is open for tours, and available for rentals for a variety of events. A number of scheduled events take place annually, most with a Victorian flavour in keeping with the mission statement of the Cottonwood Mansion Preservation Foundation to sustain and maintain the Mansion and provide experiences of the Victorian Era.
Cottonwood's extensive genealogy research centre is now administered by the curator at Haldimand County Museum and Archives. It concentrates on the pioneer families of the Haldimand and Niagara areas.
---
*** Permanent Part-Time Position Available ***
A permanent part time position as Administrative Assistant is available at Cottonwood Mansion Museum, Selkirk, Ontario, beginning January, 2018. Applicants need a warm and welcoming personality and the ability to work independently to manage a variety of events and secure volunteers for them. Computer skills and an interest in History, especially of Haldimand County, are assets as are sales and marketing skills. Please forward a detailed resume to cottonwoodmansion@gmail.com on or before December 21st.
---
Ontario150 Community Capital Program Grant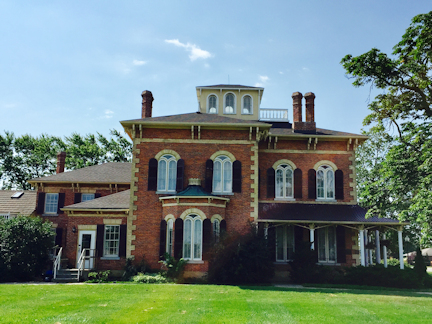 Cottonwood Mansion Museum was the recipient of an Ontario150 Community Capital Program Grant administered by the Ontario Trillium Foundation on behalf of the Ontario150 Secretariat. The grant was for existing properties to be repaired in a variety of ways that would make the facilities more available to the public. It seemed designed for a place like Cottonwood. The grant would make possible the repairs needed for the chimneys, the installation of a new roof, and the replacement of three pillars on the annex. Fortunately, the Mansion was chosen as a recipient. One quarter of the $66,000 estimate had to be provided by the Foundation. The actual cost came in at $6,000 less than anticipated. The trustees are happy to report that the work has been completed as the above photograph demonstrates.

---
Coming Up
December 16, 2017
End of Regular Hours for the Winter Season
Cottonwood Mansion will be closing for regular season hours on December 16, 2017 with the exception of special events and rentals. Please contact the Mansion at cottonwoodmansion@gmail.com or 905-776-2538 with any rental inquiries.
---
December 17, 2017
Christmas Dinner
| | |
| --- | --- |
| The Mansion will be hosting Christmas dinner on December 17, 2017 at 2:00 pm. Price per adult is $25.00 and $12.50 for children twelve and under, and includes a full Christmas dinner. Reservations are required. Catering is provided by Rosie Balogh. Please RSVP by December 12, 2017 to Cindy at 905-776-2538 or email cottonwoodmansion@gmail.com. | |
---
Article
Home at Home: Selkirk and Haldimand County
Feature article on Selkirk and Haldimand County in a national Canadian magazine. 400,000 copies across Canada. Download the PDF.
Reprinted with permission from Home Hardware's Home at Home magazine.
---
Latest News
November 25, 2017
Christmas Decorating Day Recap
Thank you to all of the volunteers who donated items and who helped to decorate the Mansion for Christmas on decorating day!
| | |
| --- | --- |
| Eva Buckle and her granddaughter Victoria decorated the table top tree in the Smith Parlour. | |
| | |
| --- | --- |
| Rosemary Hilton and Femmy helped to decorate the tree in the Sitter Music Room. | |
| | |
| --- | --- |
| Teresa Olsen and her mom, Cathie Olsen, enjoyed decorating at the Mansion. Teresa brought in Cathie from Alberta to help decorate at the Mansion for the day. | |
| | |
| --- | --- |
| Saint Nicholas (Walter Plaenksken) and Lynda Davis, Trustee helped to decorate. | |
---
November 12, 2017
Remembrance Day Lunch and Learn Recap
This year's Remembrance Day Lunch and Learn at Cottonwood Mansion Museum included a commemoration of the 150th anniversary of Canada's confederation. Treasurer Craig Sitter brought his collection of heritage coins commemorating this anniversary. They were on display in the Sitter Music Room and he filled in interested visitors on their origin and historical backgrounds.
The main speaker at the lunch was Norma Mowat, a member of the Canadian Women's Army Corp during World War II. She brought her dress uniform with her with buttons polished and glowing. She also had her shoes and lyle stockings among other items of apparel. She delighted the audience with her recollections of her service. Norma is Cottonwood Mansion's first member among many other accomplishments especially in terms of the Women's Institute.
Robert Otterman and his wife Shirley were also present at the lunch and both are among the Charter Members of the Mansion. Bob spoke of his recent return to Holland with his daughter Emily at the request of the persons who were part of the Dutch who were liberated by his Galt Highlanders regiment. He was also in full dress uniform.
The warmth of the responses on the part of all present at the lunch was a special reminder that freedom comes at a cost not to be forgotten.
| | |
| --- | --- |
| Norma Mowat along with her son Peter Mowat with her exhibit of World War II artifacts. | |
| | |
| --- | --- |
| Robert Otterman was in attendance at the lunch and was in full dress uniform. | |
| | |
| --- | --- |
| Craig Sitter and Karen Zandersons presented Craig's extensive Canada 150 coin collection. | |
---
August 15, 2017
Mystery Bus Tour
Cottonwood Mansion hosted a Mystery Bus Tour from Essex, Ontario on August 15, 2017. Fifty four guests enjoyed a tour of the Mansion provided by Clayton Spears and lunch catered by Barbara Held. Special thanks to all of our volunteers for making this event a success!
| | |
| --- | --- |
| Clayton Spears our volunteer tour guide and Lee Weber from Forsyth Travel in Essex. | |
| | |
| --- | --- |
| Toni Grandmaison a guest from the tour. | |
| | |
| --- | --- |
| Emily Folland (staff) and Veronica Gordyn (volunteer) greeting our guests during the tour. | |
---
August 13, 2017
Victorian Brass Concert and Peach Social Recap
Cottonwood Mansion hosted the 12th Annual Victorian Brass Concert and Peach Social on August 13, 2017. Guests enjoyed entertainment provided by the Cottonwood Brass Quintet along with special guest Dr. Henry Meredith. A peach dessert and punch followed the entertainment.
| | |
| --- | --- |
| Pictured are the Cottonwood Brass Quintet and special guest Dr. Henry Meredith during their performance. | |
| | |
| --- | --- |
| Dr. Henry Meredith with his c.1820 keyed bugle. | |
---
August 2017
High Chair Donation
| | |
| --- | --- |
| Bob and Shirley Otterman, life members of Cottonwood Mansion, recently donated a family heirloom high chair to the Mansion. According to Shirley the chair is approximately c1870. It had been used for three generations of their family between the late 1800's through the 1950's. Pictured delivering the high chair to the Mansion is Lynn Otterman. | |
---
August 2017
Summer Student
Thanks to a grant through Canada Summer Jobs, Emily Folland was Cottonwood Mansion's Museum Assistant in July and August, for eight weeks of service.

Her first visit to Cottonwood was when she was two to three years old and used to spend part of her summers with relatives at the lake. Tours of the area included Cottonwood and she happily admits that was the beginnings of her interest in history.

Upon completion of her work term Emily shared these comments about her experience:


"This summer I had the pleasure of spending eight weeks as Cottonwood's Museum Assistant. This was amazing not just because I got to learn more about the local history but because I got to work at a museum I had grown up visiting in the summers. From researching the balconies and answering questions about the wallpaper and stovepipes to the Peach Social there was always something new to be thinking about. Thank you to all the visitors and volunteers who made this summer memorable and exciting."
---
June 17, 2017
High Tea-Downton Abbey Style Recap
Cottonwood Mansion hosted a High Tea-Downton Abbey Style on June 17, 2017. Guests enjoyed the High Tea in the Victorian ambiance of the Mansion. Many of whom were in Victorian costume. Special thanks to organizer Lynda Davis and the staff of volunteers that made the event a success.
| | |
| --- | --- |
| Organizer Lynda Davis with volunteers Debbie and Greg. | |
| | |
| --- | --- |
| Volunteers Bruce and Lois Gifford (Mr. & Mrs. Holmes) conversing with guests. | |
| | |
| --- | --- |
| Alma Nagel, a guest at the High Tea in Victorian costume. | |
| | |
| --- | --- |
| Volunteers Lois Gifford and Greg Hilton. | |
---
May 6, 2017
Cottonwood Mansion Dolly Tea Party Recap
Cottonwood Mansion hosted the annual Dolly Tea Party on May 6, 2017 to a sold out crowd. The guests enjoyed tea and light lunch, crafts, and activities. Special thanks to Deanna Schaus, Maureen Edge, and their staff of volunteers that continue to make this event such a great success.
| | |
| --- | --- |
| Deanna Schaus and Maureen Edge, organizers of the Dolly Tea Party, and their staff of volunteers for the event. | |
| | |
| --- | --- |
| Lois Gifford who also volunteered for the event enjoyed the tea along with her two granddaughters Ameyla and Claryssa. | |
| | |
| --- | --- |
| Guests and their dolls enjoying the Dolly Tea Party. | |
---
March 12, 2017
St. Patrick's Day Country Dinner Recap
Cottonwood Mansion hosted our annual St. Patrick's Day Dinner on March 12, 2017. Guests enjoyed a meal catered by Rosie Balogh and entertainment provided by dancers from the McGinley Academy of Irish Dance in Georgetown.
| | |
| --- | --- |
| Six young women, all of whom have qualified for the World Competition of Irish Dancing in Dublin in April, performed at the end of the dinner. | |
| | |
| --- | --- |
| One of the dancers was Allison Daly, rated third best Irish dancer in Canada. She is shown with her grandparents, local residents, Brendan and Philomena Daly. | |
---